With restrictions in place on how many people are permitted at your venue, you may now be needing to offer your customers the ability to book to specific entry times that have a strict capacity set. This usually involves the need for multiple session on each given day.
To see how this setup looks from the customer's point of view see: Museum Timed Entry (DEMO)

Create your event
To create your event:
From the Dashboard, click Create an event
Complete Step 1: Event Details, then click Next: Venue Details
Complete Step 2: Venue Details. Set the capacity for the venue to be the maximum number of people you accept for 1 entry time only
Click Next: Session Times
Click Add Sessions
Select Add multiple sessions times
Under Occurrence, select the option what will best suit your planned times for entry:

Daily: Should you have the 1 session for entry on a given day that is the same across multiple dates eg. Entry permitted from 9am - 5pm every day of the week.
Weekly: Should have different times offered depending on the day of the week, but they repeat out across multiple weeks eg. Monday through to Wednesday times available are 12pm, 2pm and 4pm, then Thursday through to Saturday times available are 10am, 1pm, and 5pm.
We would recommend that you add each time in separately, allowing to select what days of the week it will be available on
Timeslots: Should you have evenly spaced times within a day. Can be used to set up full weeks or and months eg. Entry times are every hour from 9am - 5pm, Monday through to Sunday

Fill out the remaining fields of the occurrence selected, then click Save


Once all desired session times have been added, click Next: Create Tickets


Complete Step 4: Create Tickets
Complete Step 5: Add Images should you wish to add images to your event at this stage
Click Create Event, and then Event Dashboard
For further guidance on what option to select under Occurrence, pleases see: Adding Multiple Session Times

Additional Options
Different ticket prices for particular times or dates
Should you have different ticket prices depending on the date or time booked, you will be able to handle this through the use of multiple Pricing Groups. After completing Steps 1-3 above, you will add in a new pricing group that contains the alternative price points. You will then be able to assign it to the required timeslots via the Pricing Schema.
To add a new pricing group:
From the left menu, click Pricing Schema, under Ticketing
Your Default Pricing Group will contain your standard rates only, that you entered during step 1 above. Click Add Pricing Group
Name your new pricing group something that relates to the price points you are offering, click OK


Click Add Ticket Type to add in a ticket for the each of the alternative rates

With your new ticket prices set up within your new Pricing Group, you will now be able to assign them to the timeslots or dates that they apply to via the Pricing Schema.
To link your new pricing group:
From the left menu, click Pricing Schema, under Ticketing
Each Session Time will be listed. For those Sessions that are to have the discount pricing applied, under Pricing Group select the new pricing group from the drop-down list

Click Save

Use Headers to help break up your dates by month
Should you have a long list of dates that you are offering, consider using Headers in the Session Times to help group them by month. This can make it much easier on the customer's eye, allowing them to located their desired date with ease.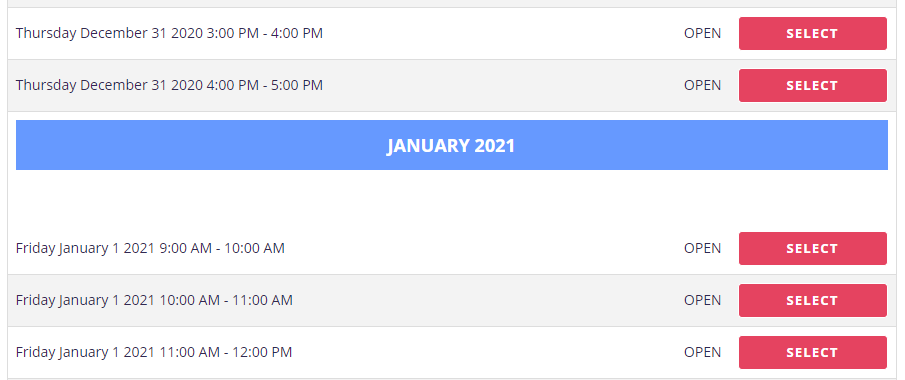 For full instructions on creating Headers, please see: Using Headers
For full instructions on adding Headers to session times, please see: Session Times Additional Settings