The Vanco Events Scanning App is useful for managing the entry to your event and scanning attendees as they arrive, as well as monitoring sales in real-time and adding volunteer scanners.
The app is free to use for event organizers using Vanco Events and their teams (Account Owner, Basic Access Users and Volunteers).
Features include:
Real-time sales dashboard with the number of tickets sold and revenue.
Scan QR codes on paper tickets and mobile tickets.
Track scanning at multiple doors/gates/entry points
Volunteer mode, with data access controls to check volunteers out.
Offline mode available.
Enable or disable scanning points.
Setup advanced rules to control scanning.
Scan multiple events at the entry point.
Manual check-in and attendee search.
You can download the app from the Apple App Store or Google Play Store for free and start scanning entries directly from your phone.
While the Scanning App has an "offline" mode, it's preferable to ensure all scanning points have internet access so that scanning information can be shared between devices and Vanco Events.
Learn how to:
Take a moment to read our proven tips on best practice for managing entry with scanning.
The mobile scanning app has been designed and tested to be used on mobile phone devices, not iPads or tablets. The smaller mobile phone devices fit nicely in one hand, making it simpler and easier to flip or manipulate tickets if required.
---
Setting up the Vanco Events Mobile Scanning App
The scanning app can be used in 2 modes:
As a Volunteer with limited access.
As the Account Owners or Basic Access User with full app access
The main person will use the Log In option and uses their normal Vanco Events Login email and password. This login can be their Vanco Events Account Owner, Basic Access User or Producers Access login.
The dashboard
After logging in you will be taken to a list of your present and past events. Simply select the event and click next. If your entry is checking tickets for more than 1 events, select all the events you need to scan and click next.
You are then taken to the event dashboard with displays in real time:
The number of tickets sold.
Revenue.
The number of check-ins for the event.
Tickets sold over time.
If your event is still selling, this will provide you with a snapshot of recent sales and how many people have been scanned in. You can update this information by holding your finger at the top of this screen and pulling down to refresh.


This information is not visible to volunteers.

If you wish to change to another event, click on the icon on the upper left-hand side just above total revenue to move back to your events list.
On this screen you will see the total tickets sold and total check ins. This will be the total for all events being scanned. Click on the side arrow to review individual event totals.
If you have set up rules to exclude one session time or some ticket types, your totals will reflect the included ticket types only.
Navigation
The icons at the bottom are quick navigation tools to allow you to move quickly to scanning, volunteer setup or review your event status.
From left to right, these icons will take you to:
Home: Takes you back to the event dashboard.
List: Will list ticket holders, allow for manual searches or scanning.
Scan: Allows you to scan tickets.
Settings: Here you can define rules, monitor who is scanning, generate your volunteer QR Code, review your app version and basics on the event or contact us.
If the main person scanning isn't a normal Vanco Events user, consider setting up Producers Access or Basic User Access which will limit their access within your Vanco Events account itself. Multiple basic users can be set up in your Vanco Events account and used in the Scanning App.
---
Defining volunteers
Running an event often means you need to call upon more people to assist you, especially at peak times. The Scanning App provides:
One-off logins for volunteers.
Limited access to data for volunteers.
Review who's logged in.
Removal of volunteer access at any time.
Monitor throughput of scans / volunteers.
Limit access to one event only, with no dashboard information.
Those will full access to the Scanning App, whether they log in as the Account Owner or a Basic Access User, are the only persons who can setup or login volunteers.
If two people use the same login to Vanco Events login, consider setting up basic access user one or both so that different names can be defined and used with scanning.

To setup a volunteer, follow these steps:
Log in to the scanning app, using your Vanco Events credentials
Click on Settings , and select Scanners
Click Generate QR Code
This will generate a QR code that you will scan from the Volunteers phone after selecting Volunteer Login.
Best practices: You may wish to have a volunteer check-in table to help with their setup. Also, taking a screenshot of the QR code with your phone, or printing it on paper. Be sure to thank your volunteers!
On the device that will be used by the volunteer:
Download the Vanco Events Mobile Scanning App
Open the scanning app
Click Volunteer Log In
Scan the QR code. The device will access the camera. Focus the camera view on the Volunteer QR Code presented on the device that has generated it
On successful log in, the volunteer will be presented with fields to complete setting up their access:

Rule Set: Allows the volunteer to select the required rule for their scanning purposes. These rules are pre-defined by those with Account Owner and/or Basic Access User
Name: the name of the volunteer. This allows for accountability when looking at your scan data
Location: The door or entrance where the volunteer will be scanning
Checking: By default, this field will be set to IN. This ensures that they are registering new tickets presented. You may wish to change to OUT should you have an exit gate and you are allowing for re-entry
Adding their name allows you to monitor the volunteers using the scanning app, how many tickets have been scanned or for you to disable their access.
Ticket data on the volunteer's devices will be wiped automatically after the event is finished or they are logged out. You can also disable their access so they can't check in or scan tickets. This feature is part of our commitment to privacy and ensuring you the event organizer can run your events without worrying about who has access to your ticket data.
The Volunteer QR Code will be valid 10 days from the date generated. It is recommended that you only generate the code once you have all rules set up (should you be using) and you are ready to scan. Generating a new Volunteer QR code will not disable any Volunteer QR codes generated prior.
---
Scanning or manual check-ins
You can scan tickets via the QR code present on our E-Tickets or use the list of ticket holders to manually check attendees in by swiping left over their name. The scanning app can also check out attendees so that they can check in again at a later time.


To start scanning tickets:
From the bottom menu, select the camera icon . This will activate your camera
Focus the camera view over the QR code on the ticket
The camera view will confirm the scan status of the ticket
Successful Scan: A successful read will display a green screen and a ping sound. There is no need to push a button in order to scan tickets.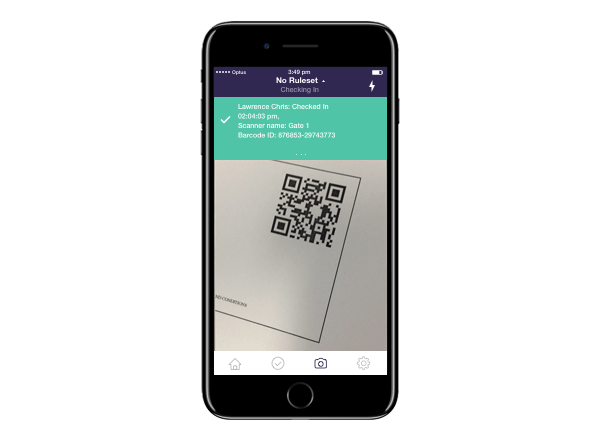 Unsuccessful Scan: A red screen and alarm sound indicate that this ticket has an issue.
The red screen text will indicate :
If the ticket has already been scanned, if so by which scanning point / person and how long ago.
That the ticket is for the wrong session (Day or event).
That it is the wrong ticket type based on a rule that you've applied.
Look up tickets by name
When a person arrives without their ticket or their ticket won't scan, it's easy to find their booking / ticket.
To look up a booking by name:
From the bottom menu, select the tick icon
In the search field enter the name of the booking. You can search by First or Last name. Should you be using the Vanco Events Attendee Name fields in data collection, you will be able to search by using either the Booking Name or the Attendee Name

A list of results will display below your search
If you are confident that you have located the correct booking, you can swipe left to Check In the ticket. If you make a mistake and check in the wrong ticket, simply swipe right to Check Out the ticket once more.
You may wish to validate the person further or review the booking. Click on the person's name from the search listing to reveal their phone, postcode, last 4 digits of their credit card, ticket numbers and all the tickets booked as part of the same booking.
By tapping the circle next to the right of the person's name you will check-in or check out that person or group.
Use the filter icon to exclude or include checked in tickets.
If you are scanning tickets with the camera click the tick icon to move to search your ticket holder and then the camera icon to return to scanning again.
---
Manually check- in your guests
If you have a small attendee list, or you are not requiring attendees to present a ticket for entry, you will have the option of manually checking in attendee via an attendee list.
To begin checking your guests in:
Press the tick icon on on your menu bar to see the list of all your sold tickets.
Ticket holders will be listed in alphabetical order by surname by the booking name. If you have utilized the Attendee Name fields on your event, they will be listed by the attendee name.
Should you have a large list of ticket holder, you will need to search for them using the Booked By or the Attendee Name
Once the attendee has been located, swipe right to check them in
If you want to the full details on a booking, click on the attendee name to reveal their phone, postcode, last 4 digits of their credit card, ticket numbers and all the tickets booked as part of the same booking.
This is the name of the person who made the booking. If they booked at the same time, multiple tickets, check carefully the ticket number to ensure you are selecting the right ticket
---
Setting up rules for scanning
Some events require scanning on a particular device or day to be restricted to sessions, section, ticket type or doors. If you have VIP line it might be useful to set up the scanner to reject any tickets that are not VIP tickets, or you may wish to only accept tickets for a Friday session.
Only set up a rule if you wish to refine which tickets will be accepted. Most events do not need rules to be set up.
To set up rules:
From the home screen, selected the event/s you wish to scan
Click on settings from the bottom menu
Select Rules, and press Add a Rule

Name your rule at the very top of the screen, and then define the criteria that you wish to use. Choose the appropriate event session, section, ticket type and door

Press Save up the top right.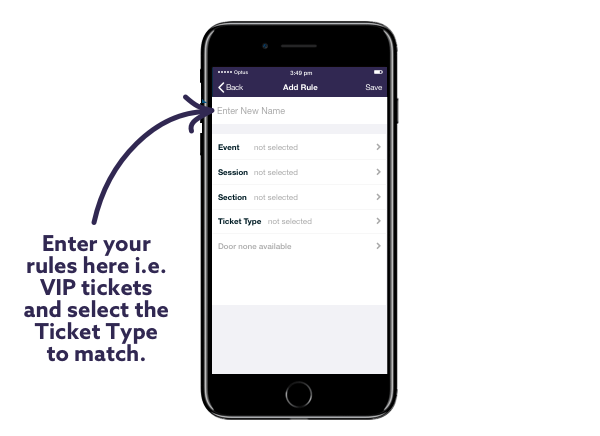 To apply the rule to your scanner:
From the Look Up list or Camera screen, tap No Ruleset at the top
In the Rule Set field, select the rule you wish to apply
Click Apply
The dashboard of your scanning app will display only the tickets sold or checked in according to the rules set.
---
Mobile scanning reporting
The dashboard on the Vanco Events Scanning App provides an overview of your ticket sales and scans. All your App scanning data including scans, volunteer names, pass / fail is being passed back to your Vanco Events account for detailed analysis.
You can report and review based on:
The velocity of scanning over time by volunteer or overall.
The tickets which were scanned, and who scanned them.
Which tickets weren't presented / scanned (no shows).
Export all of your data.
This detailed analysis will build your knowledge and help with volunteer staffing levels, throughput over time and roughly how many no shows you will have for each event.
The velocity of scanning report will detail the total scans, total scans, checked in, checked out and errors (due to incorrect sessions, tickets etc). Errors + In + out = total.
Local data Statistics on your device.
On your mobile scanning app, the main login will display Local Data Statistics which includes the following data:
Events - how many events are part of your scanning.
Tickets downloaded -This is the total number of downloaded/expected tickets from server.
Bookings downloaded -This is the total number of downloaded/expected bookings from server.
Unique tickets in now - counts the total tickets in the venue

(excludes any checkout tickets over all events). These values include scanned and manually checked in. This value should match your dashboard.

Unique tickets in - is the count of all tickets scanned and counts all tickets scanned ignoring if they were checked out. This value will include scanned and manually checked in.
Total tickets in - Total check in records for the events and counts checked in irrespective if they were checked in and later checked out before checking in again. If someone checks in, out and in, the count will be 2. Both scanned and manually will be counted.
Total tickets out - Total scan/check out records for the events and counts all the scanned records that checked out irrespective to if they were checked in and later checked out before scanning in again and maybe checking out (In this case if someone checked in, out, back in and out, the counter here would = 2). These values will include scanned and manually checked out.
This device check in - Total scan/

manually

check in records for the device(locally) (will reset on log out or uninstall)
The device check out - Total scan/manually check out records for the device(locally) (will reset on log out or uninstall)
Local scans success - Total successful scans for the device(locally) (will reset on log out or uninstall) This will include both scanned and manually checked in records.
Local scans failed -

Total failed scans for the device(locally) (will reset on lo

g out or uninstall) This will include both scanned and manually checked in records
Local scanned records - This is the total number of scan records created for the device including manual check in/out. (will reset on log out or uninstall)
Local scan not synced - This is the total number of unsynced scan records created locally and not sent to the server.
Received push notifications - count of push notifications of events in/out
Last received push - Last received PUSH notify - This is the last date time a push notification for a ticket scan was received


Online - This is whether the device thinks its online(connected to the internet) right now.
App version - the latest version
Api base URL
Region
---
Mobile specifications
Minimum phone operating systems are:
Android 4.4.4 (KitKat) and above (Android Go not compatible)

iOS 10.3+ as an iPhone application.
To point and shoot (scan) a QR code, the application will use your phone's camera.
For effective scanning and communication back and forth via the Vanco Events API to Vanco Events and other devices, internet is required for each device. The applications will run in an offline mode although in these cases, communication is not being shared at the time of scanning with other scanning devices.
Other considerations:**
We expect 500 scans will use less than 2MB of data.
Battery life - this is a rough guide and assumes only the Vanco Events Scanning App is in use or using the battery at the time. Our tests indicate roughly 7% battery is used per 500 scans.
The application is approx 40MB to download.

** these are estimates only and may vary depending on the phone and what else is running on that phone at the time.